Loose Change Magazine (Page 6)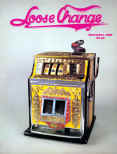 December 1980
Prescriptions for Slot Machines A pharmacy where the best medicine for boredom is a prescription to operate a slot machine. Harold's Club Gun Collection More than 600 pieces are there for the fancier of firearms.
November 1980
The 1980 Loose Change Fun Fair Highlights from the second edition of the world's largest antique coin machine and advertising show. Caesars Tahoe A portrait of a new casino in Lake Tahoe. Slot Machines in England A survey of old and new English machines.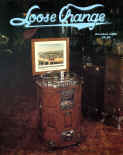 October 1980
The Watling DERBY This man tells of the "rarest of the rare," a machine he received from John Watling. Legal States for Slot Machines This is the yearly roundup of yes and no states. Gambling Superstitions This lively report from a major Nevada casino tells how players think they pick winners. List of Fun Fair Exhibitors (Partial) Here's your chance to do your homework before arriving at the Fun Fair: Simply note the ones who sell what; and where their booth will be; then make up your shopping list. Keeping Them Honest A colorful bit of larceny about those who cheat slot machines. Gold Leafing Your Slot Machine A professional tells how. Includes copyright-free artwork for the designs on the sides of the case.
September 1980
The Slot Machine King The compelling story of one man's life as a modern day "King" of slot machines, Mr. William "Si" Redd. Auction Fever This factual, "straight-in-the-face" report by a leader in the hobby of collecting reveals the pros and cons of an auction. Decorating Your Fun Fair Booth Good information on how to set up a show booth for the most effective marketing. Le Scopitone de Paris An encompassing article about the most famous movie jukebox of all. The Loose Change Fun Fair A noted coin-op dealer tells why the Loose Change Fun Fair is worthwhile for everyone—from visitor to dealer.
August 1980
Photography for Coin Machine Collectors Now you can photograph your own slot machines with professional results. The methods used for the magazine are presented in descriptive form. It's Showtime A veteran show exhibitor and attendee tells it how it really is. This article will help you sell or see more at the shows and sales. Mills "Horse Head" BONUS Although introduced twice, this desirable machine was never copied by any other slot machine manufacturer.
July 1980
G.A.M.E.S. An in-depth look at G.A.M.E.S.—the largest store of its kind anywhere in the country. Gordon Pace's Father's Day Auction Wheeling, Illinois. Many fathers—and non-fathers—were treating themselves to Gordon Pace's Auction. Prices seemed to generally hold up well despite the slumping economy. The Master Plan Although familiar with the Master gumball machines, nearly all collectors are ignorant of the manufacturer of these machines and the products manufactured under the Master name.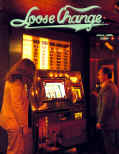 June 1980
Slot Machines: The Largest and Smallest A discussion of the Big Bertha machines, the world's largest slot machine; and the MANIX, a miniature machine built by Gamex. The Antique Gambler Auction Las Vegas, May 16-18, 1980. Half of nearly 500 lots auctioned were slot machines!
May 1980
Bull Durham When the jackpot craze caught on in the late 1920s, the conversion front companies had a field day. This story is about one considered rare among today's collectors. How and Why to Buy at Auctions A well-known coin machine auctioneer has some good advice for those attending auctions for good deals.
April 1980
The Man Behind the Legend: Frank Polk Frank Polk is most well-known to slot machine collectors and enthusiasts for his famous carved cowboy slot machine figures. Offering a complete listing of his carved slot machines, this article explores his life and times. Twenty-eight photos, both old and new! Mathematics of the Mills FUTURITY A mathematical continuation of the article on the same machine in the January 1980 issue of Loose Change. The Character Manufacturing Company A profusely illustrated story of the company that originally produced the carved cowboy slot machine figures. Clyde Keeling A tribute to a man who played an instrumental part in the foundilng of this magazine.
March 1980
The Watling ROL-A-TOP and TREASURY This exploration of these popular, eye-catching machines discusses the various models. Illustrated with more than 30 photographs. Harold's Club: Nevada's Oldest Casino A fast and fascinating history of Nevada's oldest casino. An Unusual Task A quick sketch concerning mathematics, 10-stop reels and the psychology behind the design of reel strips. Law Making The efforts of a Michigan collector led him to the governor's side to witness the signing of a bill legalizing possession of antique slot machines. Spinning Wheels The story of a non-Nevada company with exclusive rights to make roulette wheels for casinos in Nevada.
February 1980
Why Do People Gamble? This oversimplified and entertaining article includes the author's definition of a player, a gambler and a loser. The Golden Nugget The casino's builder takes a step back in time and re-creates the best of the Old West. The Greed of the Old-time Operators This article shows still another way some operators purposely "cheated" their players. The Life of a Deck of Cards Have you ever wondered how long a deck of cards could last in casino play? Here's the answer from one of the oldest casinos in the country. Meet Lady Luck She'll make you rich, she'll make you poor; but she'll never bore you. Her name is Lady Luck. This article explains some of the games she plays.
January 1980
The Mills Futurity This examination delves into the inner workings of this machine. The mathematical analysis will either bewilder or amaze you. Don't You Dare Drill That Lock! The answer to that frustrating problem of what to do with a machine without a key, like the Watling front vender. Ten Stop Reels What seemed a good idea for the operator finally gave way to 20 stop reels. Advantages and disadvantages are discussed.
December 1979
Collecting Trade Stimulators For many collectors the little machines are the only slot machines available at an affordable price. This pictorial review shows 25 representatives of this small slot machine family. Loose Change Fun Fair Concise, succinct rundown on this memorable event, as seen by an exhibitor. A Review of the Loose Change Grading Specifications What it is and how to use it. All the detailed specifications for both payout slot machines and trade stimulators are presented in its latest revised state. Our Collection Written and photographed by one of our readers, this article is interesting because of its pictures of uncommon machines.
November 1979
The Loose Change Fun Fair A pictorial review of the largest event of its type ever staged for the antique coin machine hobby. Includes a schedule of events and list of exhibitors.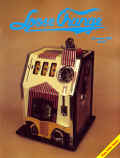 October 1979
The Pace KITTY This unique machine—a rarity when complete and in working condition—feeds the "kitty" every time that symbol appears on the first reel. A complete pictorial of the method of operation, the machine, and statistical evaluation of the odds. Gordon Pace's Coin Machine Auction Labor Day, 1979. A listing of the latest prices for the Illinois event. Identifying Slot Machines Intended mainly for the newcomer to the hobby, this pictorial review includes 18 full-page photos of some of the more common slot machines. Legal States for Slot Machine Collectors There is no single answer to the question of which state is legal and why, so we have given you a quick synopsis of 25 "legal" ones. A Quick History of Harold's Club A thumbnail sketch of one of Nevada's oldest surviving casinos. Patents, Early Slots and Gin Marshall Fey, grandson of slot machine pioneer Charles, offers a rebuttal to an earlier article in Loose Change magazine. Nickel Interlude A heart-throbber for the jukebox fans.
September 1979
A Rare Mystery Even Charlie Chan, Sam Spade and the Hardy Boys couldn't have done a better job than this collector did in finding out what kind of machine he had. Auction Protection Tells some tricks underhanded auctioneers use, then describes ways both the buyer and the consignor can protect himself. Southern California Advertising Show Don and Sharron Henry's eighth annual advertising show at Disneyland had a wide variety of goodies for the antique coin machine collector.
August 1979
Cheating Is Not Allowed Here A profusely illustrated guide to the more unscrupulous gambling equipment and devices used to cheat, as used by those professionals of days gone by. Buckley's Track Odds This article explains the reason why the console slot machines are no longer passed by as uncollectibles by long-time collectors. The Americana Auction Las Vegas, June 23-24, 1979. Joe and Diane Piersanti staged a big auction, but few attended. Those who attended walked away with nice merchandise because the price was right.
July 1979
Patents and the Early Slot Machines This provocative article raises some questions about the generally assumed status of the Fey LIBERTY BELL. The Goliath Discophone This historical article about an early jukebox comes from Belgium. How Many Bell Machines? A list of several hundred bell-style machines offered from 1931 to 1940. Buying Slot Machines by Mail A tongue-in-cheek look at mail salesmen in the slot machine collecting business. A dandy! Full of humor, wit and photos. Restoration of a Wurlitzer 1100 Although not technical in nature, this article offers some excellent tips. Whatever Happened To . . . Remember all those signs you used to see: "Harold's Club or Bust"? Mills Dice Machine Closely simulating a craps game, this device has disappeared soon after its introduction. The one in this article is almost brand-new!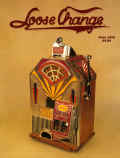 June 1979
The Little Duke The Jennings machine was fascinating to players in 1932 when it was introduced. Today, collectors are charmed by its unique look. No other maker of slot machines has ever copied it. Me 'n My Duke This collector prizes his little machine more than any other. The Virginia & Truckee Rolls Again This revival of America's most famous short-line railroad is bound to catch the interest of everyone with an appreciation for things mechanical. Going Legal: Part II This is the continuation of last month's article.
May 1979
The Antique Juke Box Story The founder and owner of a famous business claims he has had a good record of flops. Bordello Body Painters A University of Nevada student in journalism took on an assignment he will never forget. Signs Gamblers Read Billboards leading into the gambling cities whet any and all appetites—from bingo to slot machines and buckets of food. Going Legal: Part I Illinois is legal, that's a fact; but what now? What are the implications of this for collectors and dealers? We predict. Heroes of Rock 'n Roll The most expensive television production of rock and roll had its beginnings here at the Antique Juke Box Company.
April 1979
The Ultimate Coin-Operated Machine This comprehensive treatment of mechanical coin-operated machines ranges from banjos and pianos to xylophones and violins. Profusely illustrated with photographs and pages from original catalogs. Victorian Casino Antiques Auction Frontier Hotel in Las Vegas, March 3-4, 1979. Only this auction could have all the slot machines banned the day before the auction and still have a wonderful selection of other items left to occupy bidders for two days. The Slot Machine Ban Roy Arrington's auction met with misunderstandings. And the Nevada Gaming Control Board announced there would be no slot machines for sale at this show! My First Coin Machine Auction Although one collector managed to spend time and money for an Arrington Auction, he had to go home empty-handed. He still looks forward to the next time.
March 1979
Saga of the Snake Remember the little picture of the Serpent slot machine Loose Change published last April? Well, its little sister and a companion have emerged. More on the Odd Fellows Another "odd fellow" has one collector believing that Oliver Twist isn't the only British-trained thief. Beginner's Luck A true story about a beginner and her luck—or lack of it. Our First Year at a Glance If you are a newcomer to Loose Change you may be interested in knowing what you missed. The Last Tour of the Wurlitzer Factory Imagine taking a tour of your factory—a vacant one. It's exciting if it happens to be as famous as this one. Moving? Don't Leave Anything Behind Most people are very careful not to leave anything behind when they move—except for one item: their magazine subscriptions.
February 1979
The Making of "Tilt" The story of the making of the Brooke Shields movie about pinball games. His Hobby Became His Business To many collectors, Roy Arrington means an auction of extraordinary glitter and glamour. Here is Roy's story: how a hobby turned into a business. Short Changed? Here is the reason some other slot machines had wishy-washy payouts.
January 1979
Behind the Scenes of Harold's Club To the occasional visitor, a gambling casino operation is automatic. This is the other side of that assumption. The Disneyland Auction Anaheim, California, November 25-26, 1978. Mickey Mouse and friends weren't the only stars present during this auction. Guinness Sets Its Own Record: Inaccuracy This time they really blew it! They don't know anything about slot machines, as this collector explains. A Restoration Primer This excerpt from a new book has some fine tips for case and mechanism restoration. The Reno Auction On December 2-3, 1978, the A-1 Supply Company held the largest one yet—but the prices were erratic. A Visit with Donna and John Hermann Such a collection of Caille machines you've never seen! And then, there's all the Polk figures! A glowing account of two people who've been in the hobby a long time.
December 1978
It Could Have Been A Lemon! After a successful year in publication, Loose Change has hit cherries, not lemons. An Interview At The Money Tree A behind-the-scenes look in the slot machine department of The Money Tree Casino in Reno, Nevada. Great Discoveries Marshall Fey has some recent coin machine discoveries to share. The Automatic Violin Player Although published more than 60 years ago, this article is just as fascinating now as it must have been then. Greed Breeds Profit This short story tells about how an old operator profited from the dishonest and greedy customers who played his machines.
November 1978
Charles Fey: The Slot Machine Man An insightful look at the inventor of the first three-reel payout slot machine as we know it today. The Story of the D. Gottlieb Company A concise story of the company and the amusement pinballs that have made the name world-famous. A Collector's Guide to Automatic Music Have you considered an automatic coin-operated machine that plays a real violin—or perhaps two—for your collection? How about an orchestrion?
October 1978
The Columbus Story A fact-filled pictorial article about some of the rarest and most valuable gumball machines and the company that built them. The Caille MULTI-BELL 7-WAY The most ingenious and sophisticated of all mechanical three-reel slot machines outsmarted itself.
September 1978
Those Fascinating Bits of Brass More than 10,000 different kinds of amusement machine tokens are now valuable collectibles. Tools of the Trade This advanced do-it-yourselfer likes to use the proper tools for the job; and these are the tools he chooses for working on slot machines. The Letter Remember Dick Bueschel's "Legend of the Triple Imp," which appeared several issues ago? One of our readers went in search of one for his own collection. The Bonaventure Auction This pooh-poohed event turned out to be a success—despite what the "experts" predicted. It was so successful that another has been planned for November 1978. From A Pinball Point of View: The Auction Our pinball man laments: "Where have all the wood rail gone?" Except for one old-timer, this auction featured all metal rail machines.
August 1978
A Collector to Remember William F. Harrah is gone, but his empire and collections survive. How did it all begin? This "kickoff" article explores how. Harrah's Hotels Special hotels built by a man with special ideas. The Piano Roll Blues "Cookie" made nearly 20,000 arrangements for piano rolls! Build This Attractive Slot Machine Stand Here's the concluding part of this do-it-yourself project written by a young fellow who did it himself—all for under $50. Harrah's: The Organization and the Man It's easy to make money with a gambling casino, right? Wrong! Better read this piece before you try it! Southern California Antique Show On July 14-16, 1978, Disneyland featured other attractions besides Mickey Mouse and Donald Duck. Harrah's Takes the Risk Out of Gambling Have you ever seen a casino card dealer clap his hands as he turns the deck over to the next dealer? It's not a gesture of joy; it's one of the rules of the house. This blue-chip operator literally wrote the book for casinos. The Time Machine This collector wasn't satisfied to accept the fact that his old machine was just plain old. He did some investigation and found out how old. Pinball: America's Fastest-Growing Craze This article explains the theories about why pinball machines are sources of aggressive or passive sources of amusement.
July 1978
The Vest Pocket Story The complete story about a mini-sized slot machine that has proven itself so popular that it is still being made today. Investing in Slot Machines "The stock market? Phooey! I'll take slot machines," says this noted collector. Read why. Guess What Jack and Bill Did? These men made an agreement and shared the results with all of us. The Mystery of the Missing Pages One of our readers sent a letter to one of our authors, and wow—did we get the wrong number of pages! The Antique Gambler The other side of the A-1 Supply Company. Build This Attractive Slot Machine Stand Here's another do-it-yourself project written by a young fellow who did it himself. If he could do it, so can you—and for under $50. Keep 'em Playing How to give your old jukebox suffering from "tired trays" a fast fix.
June 1978
A Tribute To Yesterday Ron Brooks turned his clock and calendar back 70 years! His tribute to a slower way of life is his "new" store. But there's something strange about this store: Nothing is for sale! The Canning Americana Auction Although this auction was not actively advertised for collectors of coin-operated machines, it had a great number of them, and prices were generally lower. The Orchestrion Is there really an orchestra in that cabinet? The A-1 Supply Company An insightful look at the antique side of this rapidly growing company. The Slot Machines of San Juan Two Loose Change readers who vacationed there complimented each other so much in their reports that their article was published as one basic story. The second one explains the first.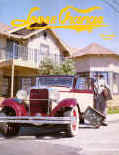 May 1978
Life is Just a Game of Bagatelle This in-depth article on the origins of the pinball machines and the earliest models known is the most extensive to date. Who Are Those Odd-Looking Fellows? Overseas travel can change a slot machine's appearance. The Biggest Little City is Growing Up New casinos are popping up all over Reno, Nevada.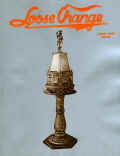 April 1978
What is a Slot Machine? Those fascinating early machines bear little resemblance to slot machines today. The Legend of the TRlPLE IMP A fantasy? Who can tell? This may be one tall tale! Gumballing Valuable information for collectors of gumball machines is contained in this entertaining article. Tomorrow is Here for Jukebox Tubes You had better get those needed tubes before it is too late! What Are They Worth? For everyone who has ever asked the question, this announcement of a new price guide will be great news. Tomorrow is Here for Jukebox Tubes By the way, whatever happened to electron tubes? We're Off to See the Wizard The Bally super-shooter story with a complete listing of all finalists.
March 1978
Gumballs, Peanuts, Etc. A vending machine collector tells his story, with over five dozen machines illustrated and described. Why Collect Jukeboxes? One look at a few of this fellow's jukeboxes shows why he got turned on. The Unique Antiques Auction Culver City, California, January 28-29, 1978. This memorable event was the kickoff for a 10-day chain of events that will be long remembered by collectors worldwide. It Was a Great Time The Gilgoffs hosted a between-the-auctions party in Culver City. Is This Really America? The plight of a slot machine collector whose machines were confiscated should be of concern to all hobbyists. Will New York Go Legal? That is the question. And we visit with one man who wants to twist the results our way. The Victorian Casino Antiques Auction Roy Arrington's early February auction at the Frontier hotel in Las Vegas was the biggest to date and wound up being the most unforgettable 10-day chain of events in the history of coin-op collecting. Pinballs at the Unique Antiques Auction The TIVOLI JR. and BINGO machines became attention-getters.
February 1978
It's Time the Laws Were Changed A classic article discusses the legality of antique slot machines. Are Your Clicks in Order? Get out your stethoscope and give your slot machines a checkup. The Music Box Here is a history of the music box, featuring the famous Regina. If You Can't See It, It's Not Legal An Indiana attorney is disturbed about his state's laws dealing with pinball machines. This One is Loaded The Mills BASEBALL FRONT O.K. VENDER slot machine is loaded with special features. Allow Me to Introduce You to My Master "Master" gumball machines have completely captivated one collector. Here's the story. Scoring Big and Resetting Here is how you can fix those inoperative scoring reels on your pinball machine.
January 1978
Those Wonderful Watlings: Like Watling machines? You're not alone. This ornate slot machine that never changed its basic style faded into history, but collectors worldwide will never forget them. Those Fantastic Auctions Two important auctions—one in Los Angeles; the other in Las Vegas—are a week apart. This exclusive interview with the promoters gives all the facts. The Anatomy of a Bug The modern slot machine player doesn't have problems with bugs. Can it be a new scientific breakthrough? This entertaining treatment of the "bug problem" gives a fascinating insight to a vanishing practice. A Brief History of the Pinball Machine: This capsulated history ranges from 1830 to modern-day machines and gadgets. The World's Largest Flea Market? The Pasadena Rose Bowl is advertised as "the world's largest flea market." This special article concentrates on its value to the collector. The Watling TREASURY & ROL-A-TOP Ever wonder where these two desirable machines came from or how they got their names? Need serial numbers for dates of manufacture? Then be sure to read this article. It's all here! We Turn Loose Change Loose This special "behind-the-scenes look" will be of special interest to those who wonder about the birthplace of Loose Change magazine. Good Guy or Outlaw? Some states think that pinball machines are an important source of tax money; others think they are nothing but a problem. The Kruse Auction This past November 1977 auction in Stuart, Virginia, was fun, sad, amusing and disappointing. It was also important to the collector: The price trend was up!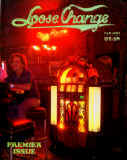 Premier Issue (Fall 1977)
The Jukebox A brief but thorough introduction to the history of these popular machines. Arcade Machines Today An interview with one of the major distributors of arcade games today gives inside scoop on the past, present and future. Is This the Record Return on Nickel Play? A durable little trade stimulator gave its owner 27 years of faithful service. You Can Refinish Your Own Slot Case Here's how to transform that ugly mess into a piece you can display with pride. The Fabulous Slot Machines The story of Charles Fey and his pioneering LIBERTY BELL slot machine is the turning point in the history of slot machines. Are Slots for Tots So Bad? A teen takes a look at a controversial idea. Look Before You Leap So you want to jump right into collecting slot machines? First, read the advice of someone who's been down that road for a long time. The Seeburg Model "A" Long before Henry Ford introduced his famous four-banger, a Chicago piano manufacturer took the world by storm with his own version.